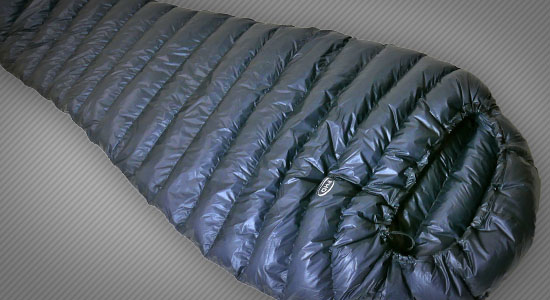 For those wanting minimum pack-weight for mountain marathons, ultra-races, and ultralight backpacking or trekking, this is the design to choose. The lightest possible sleeping bag for use in temperatures above 4°C.
The wide opening at the hood means access is easy without the need for an entry zip (short and long zips can be added).
Cut is close fitting. Standard width: chest circle approx 152cm: waist circle approx 134cm (wide and extra-wide versions are also available).
For maximum weight saving, the base of the bag has a stitch-through construction. The top is insulated with a straight wall baffle system, the lightest of all baffle systems. The stitch-through base means that this bag, more than the others in our Design Your Own range, relies on the insulation provided by your sleeping mat.
In cross section it looks like this:
Top:
Base: